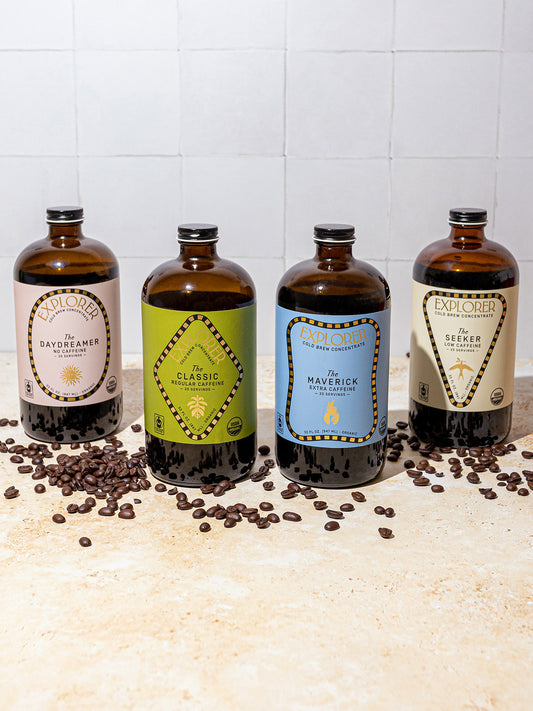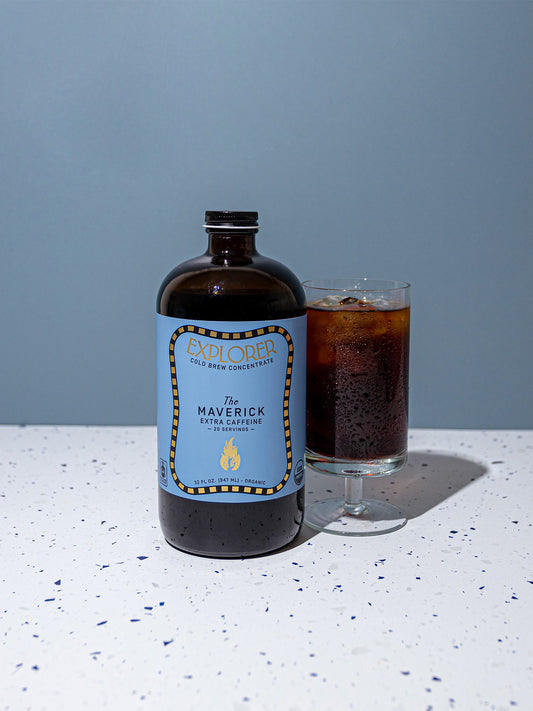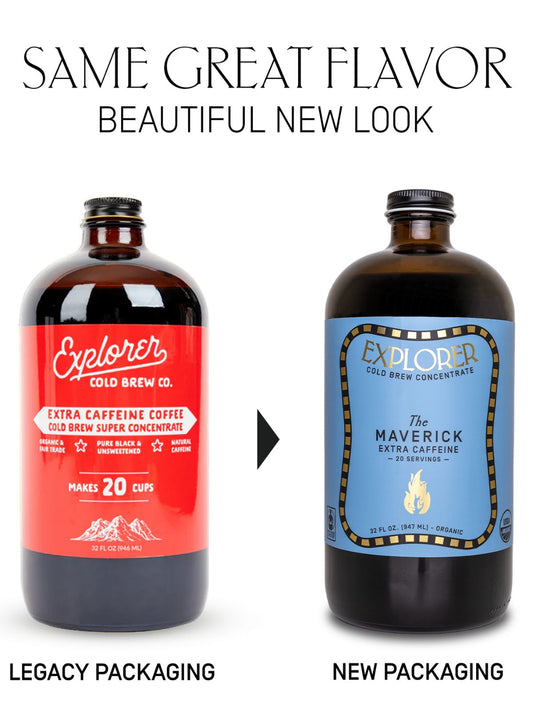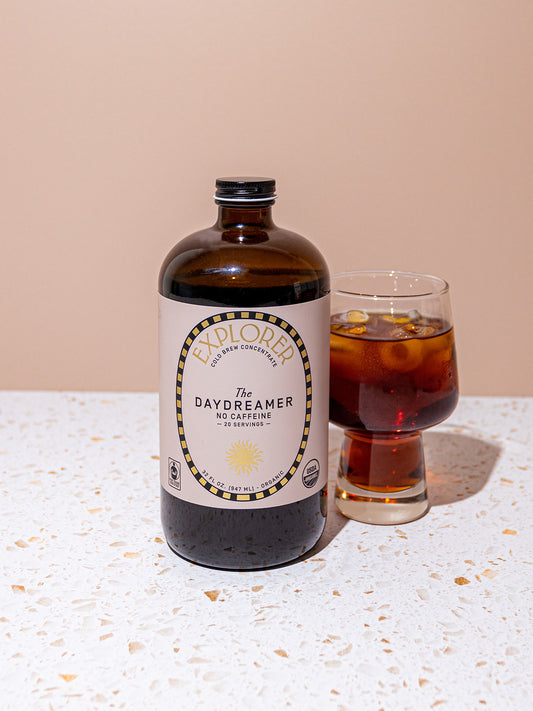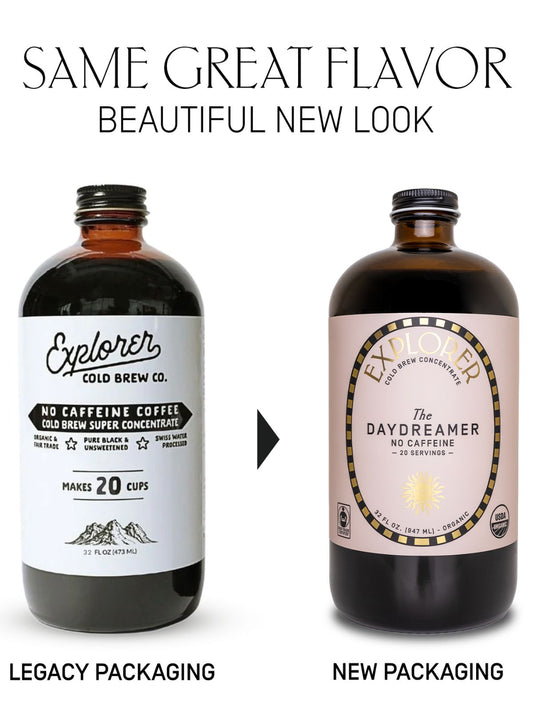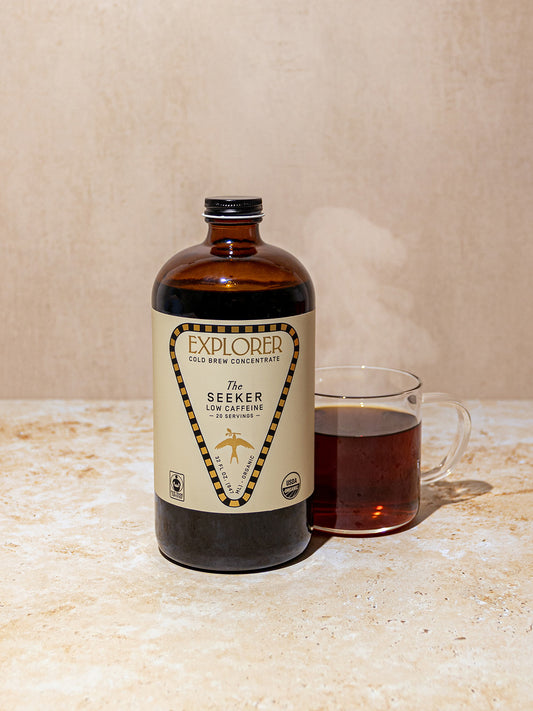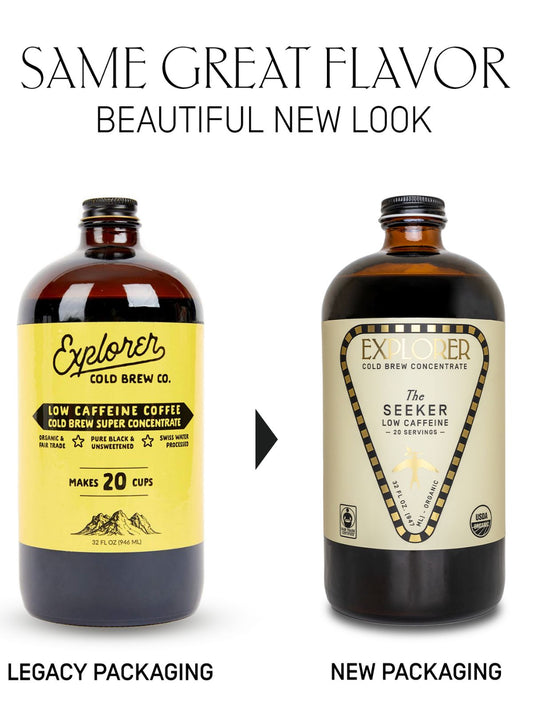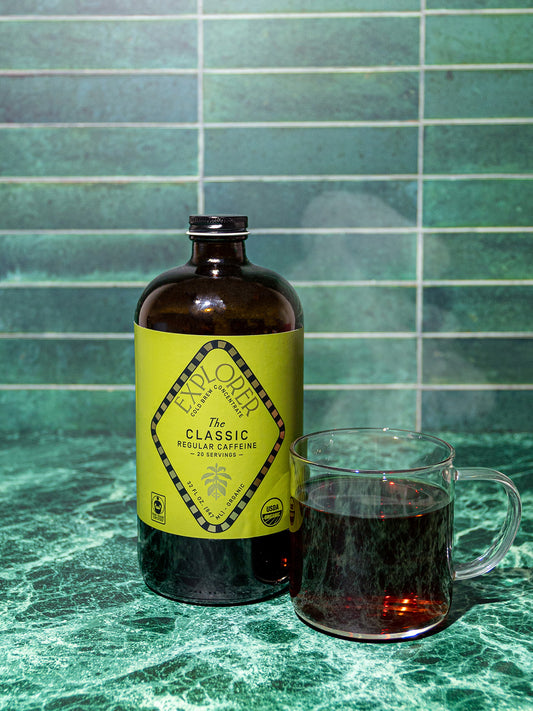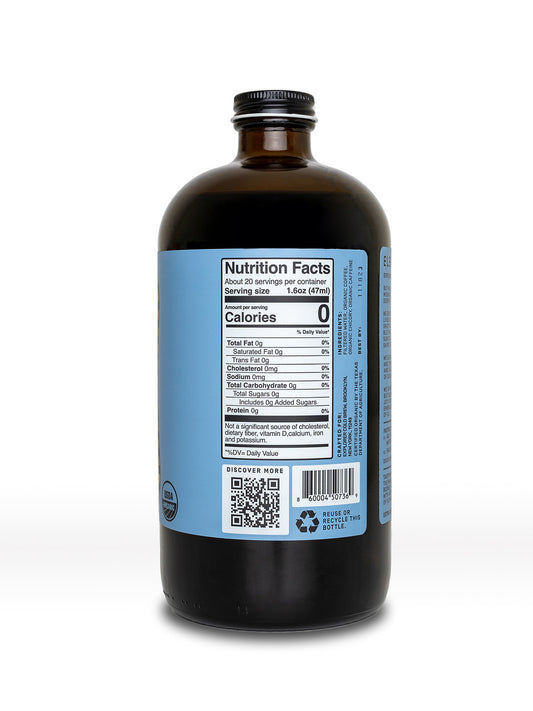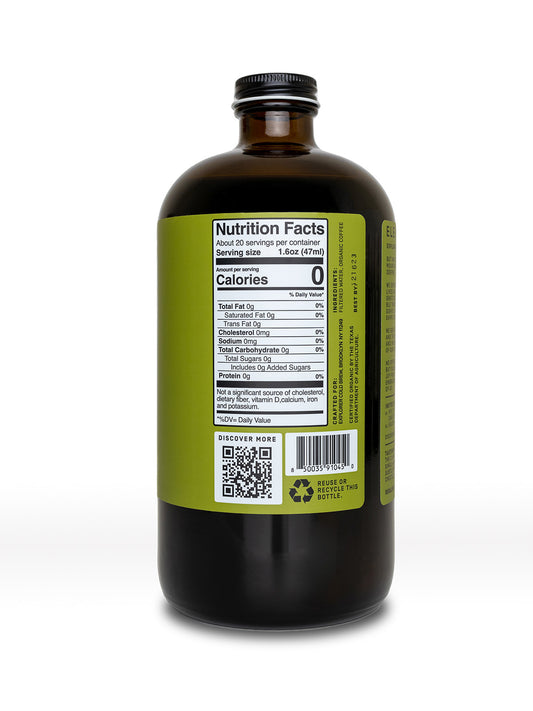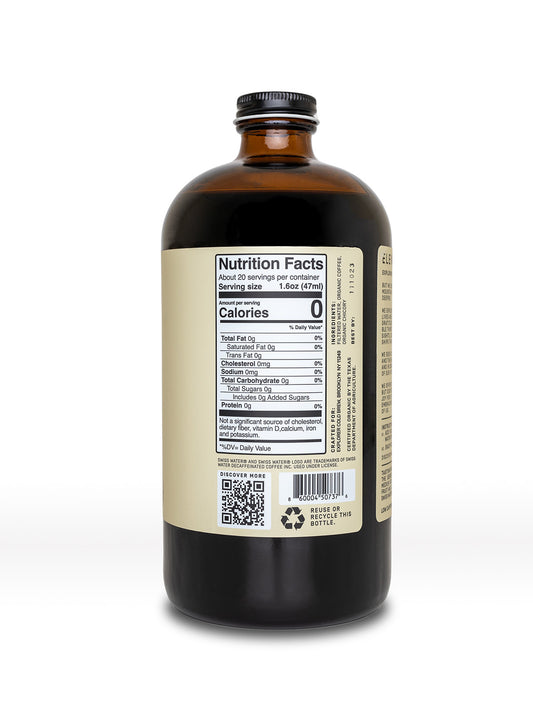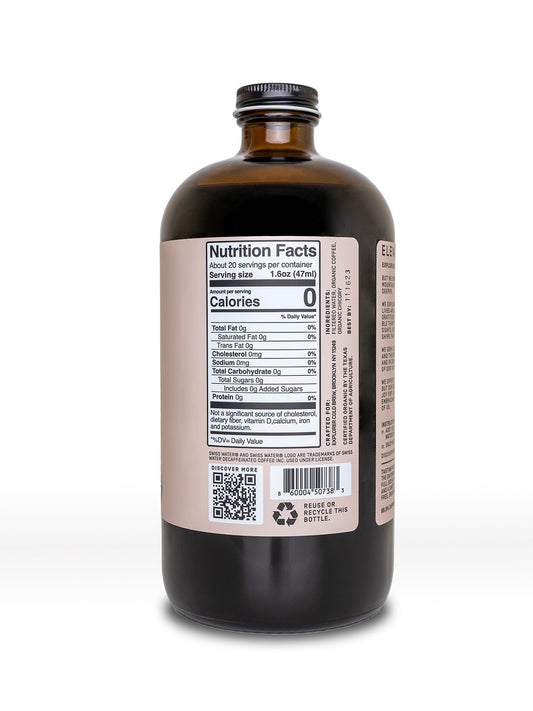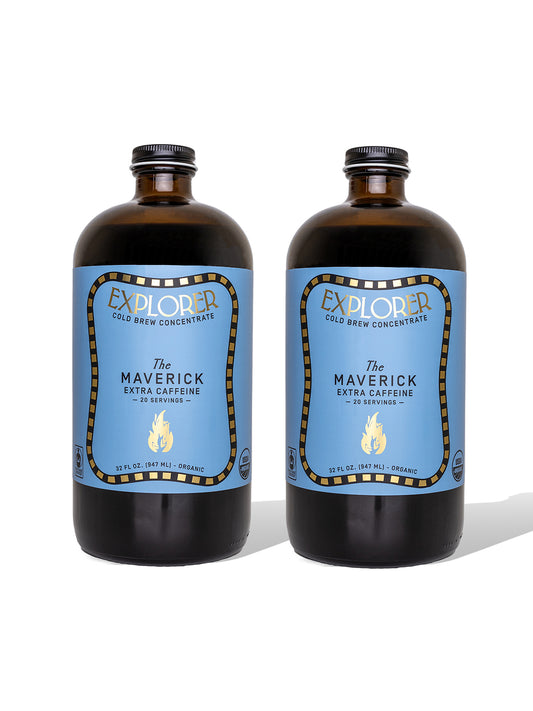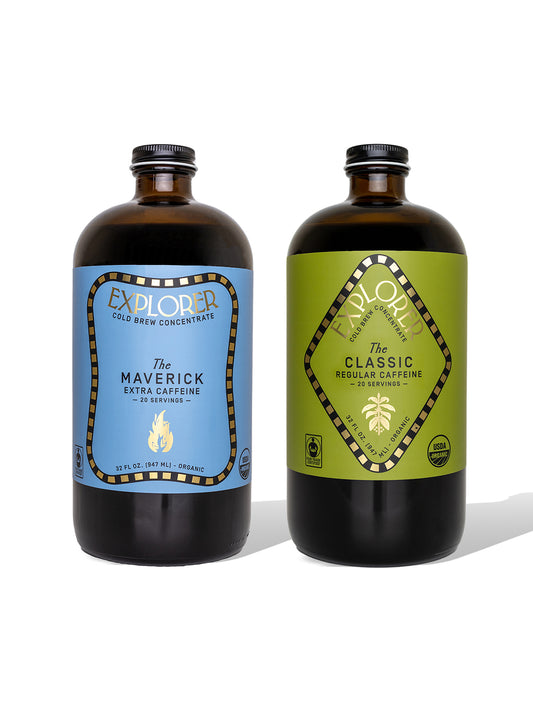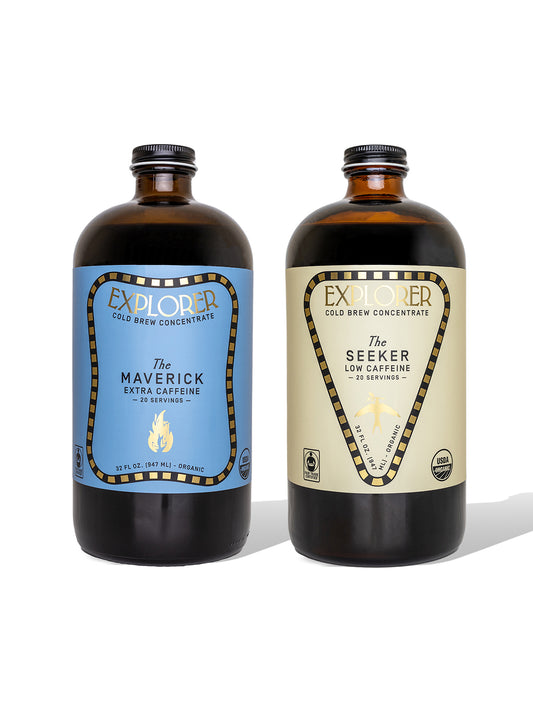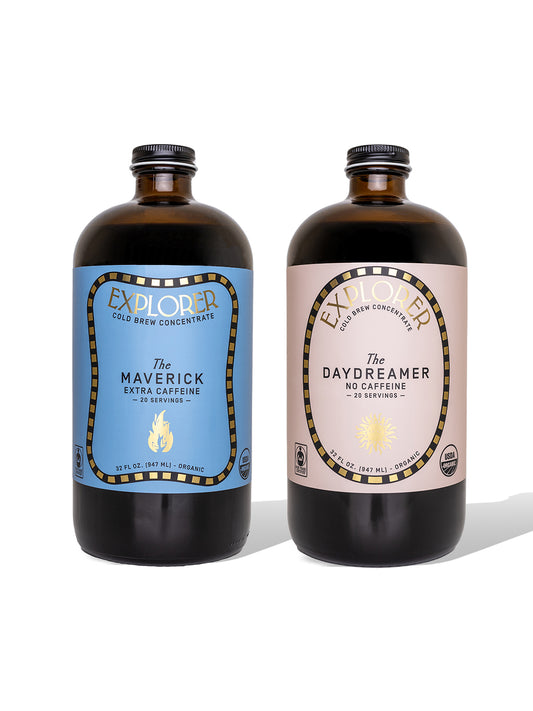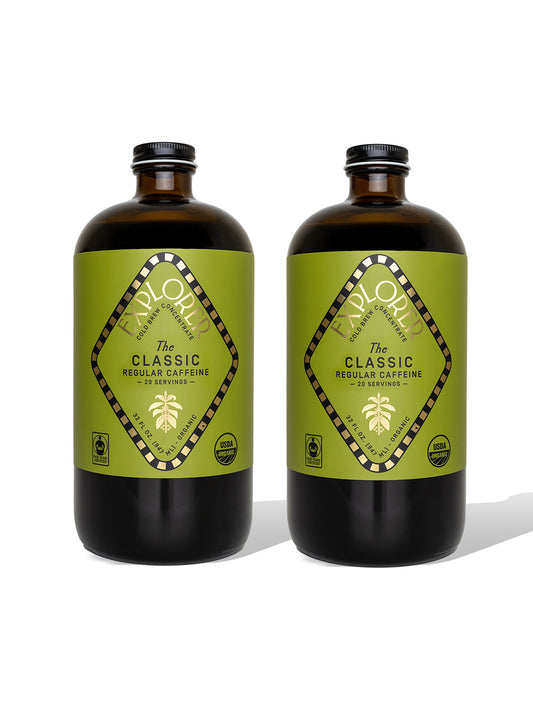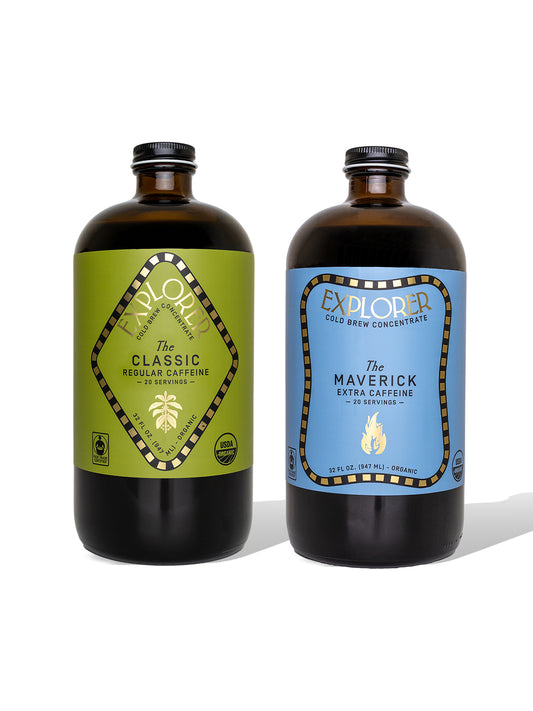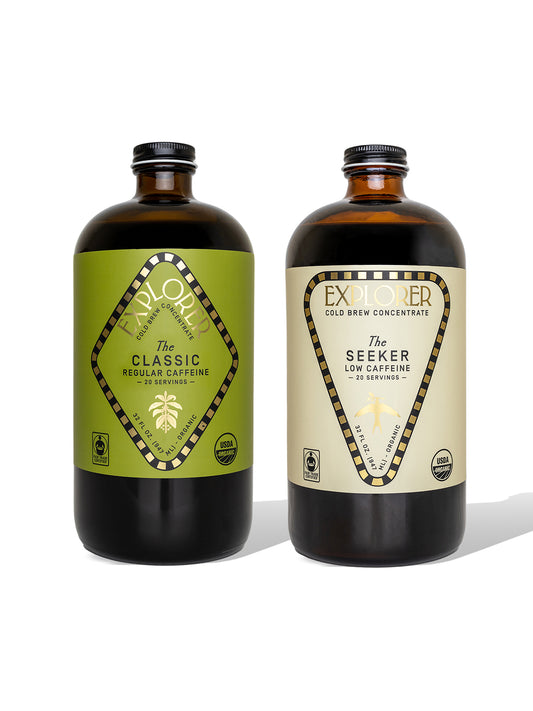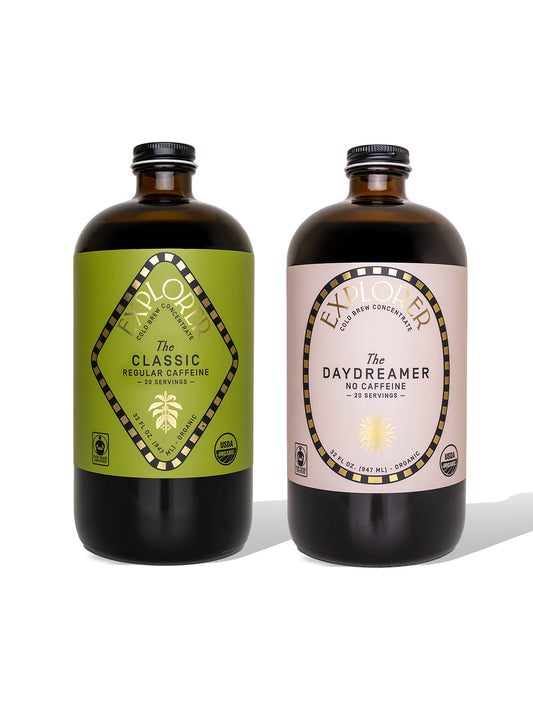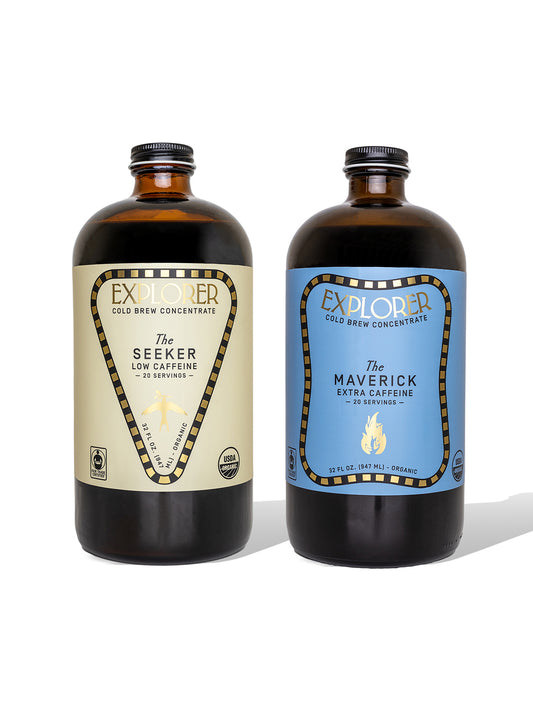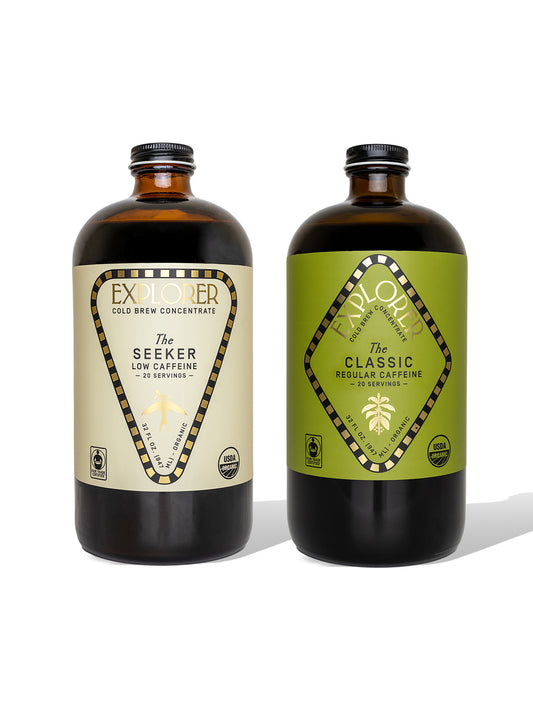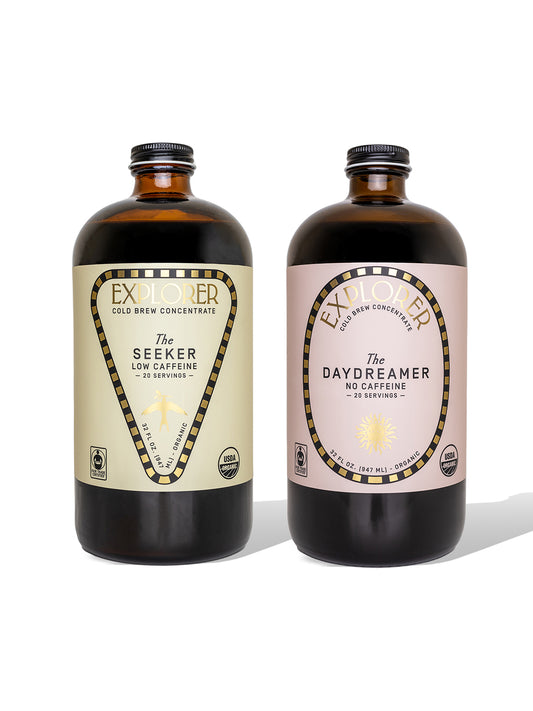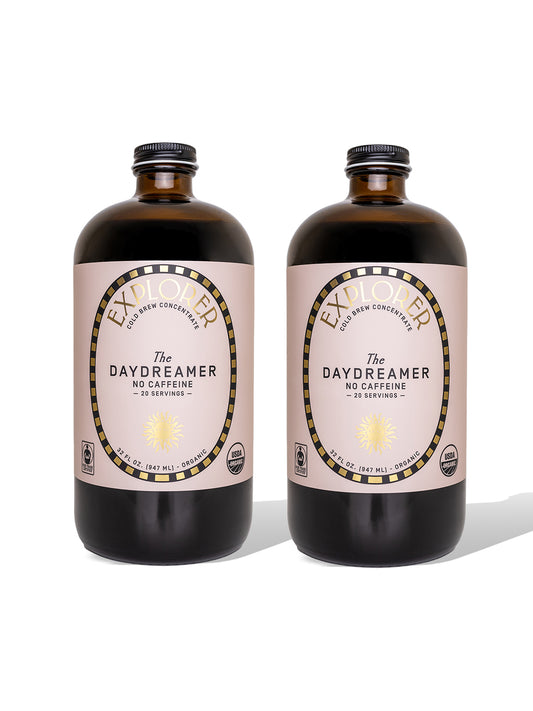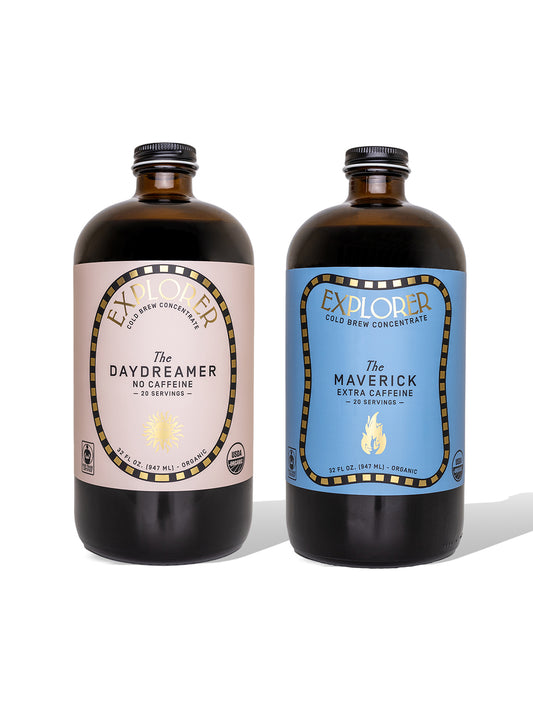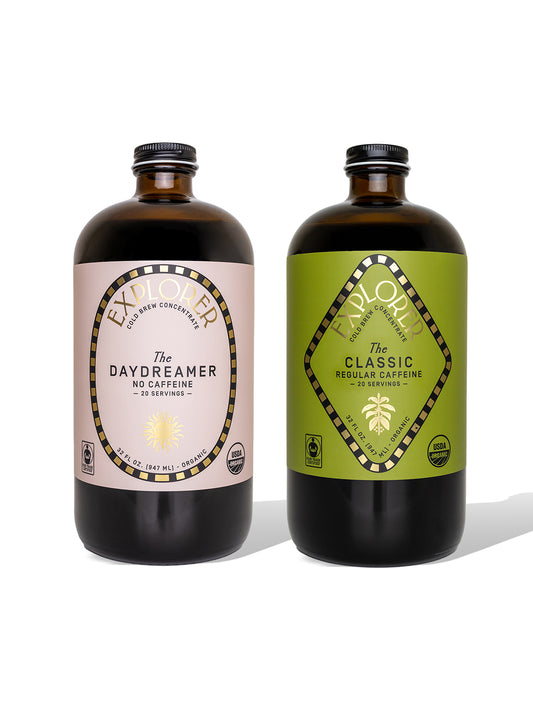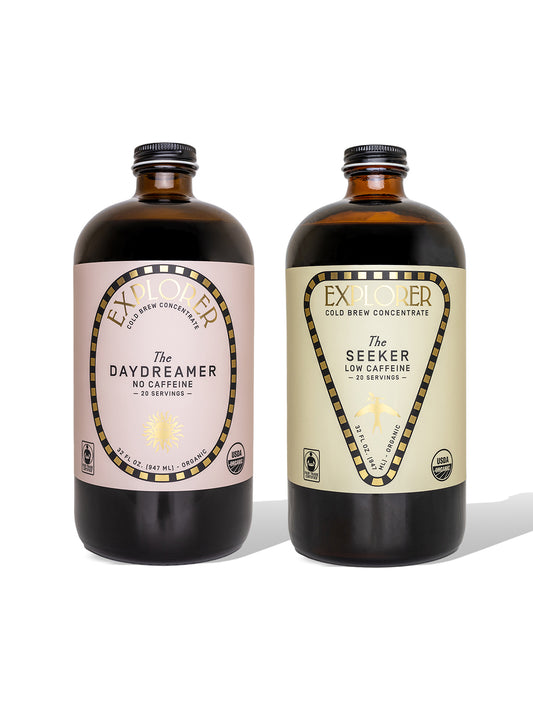 32oz Cold Brew Variety Pack
Big Bottle #1: Caf Level
: The Maverick: Extra Caffeine
Big Bottle #2: Caf Level
: The Maverick Extra Caf
Choose No. of Bottles
: 2-Pack
Free Shipping $30+ — Happiness Guaranteed :)
Description

The 32oz Cold Brew Variety Pack allows you to mix and max your favorite caffeine levels. of delicious cold brew and super concentrated coffee. 

Explorer's 4 caffeine levels are all made from organic, fair-trade and specialty-grade coffee. And it's super concentrated (10x stronger than regular coffee) so you can make it any way you want. Mix and match caffeine levels to create your perfect 2-pack.

What you get:

32oz bottles, customized to your caffeine needs

Makes gourmet coffees, on-the-go or at home

Perfect for households with varying caffeine needs

Caffeine levels (per oz):

The Classic: Regular Caffeine (100mg)
The Maverick: Extra Caffeine (150mg)
The Seeker: Half Caffeine (50mg)
The Daydreamer: 99.9% Swiss Water

®

 

Decaf (0-2mg)*

How to make it:

Pour 1-2 oz of Explorer into a glass

Add6-8oz of cold or hot water or milk

Stir and enjoy

100% Happiness Guaranteed. If you're not satisfied, we'll refund you. No questions asked

*SWISS WATER® and SWISS WATER® Logo are trademarks of Swiss Water Decaffeinated Coffee Inc. used under license. Explorer uses the Swiss Water®  method of decaffeination for our Seeker and Daydreamer cold brew concentrates.
Shipping & Returns

We offer free shipping for all orders over $30. Otherwise, we offer a flat shipping rate of $4.95. 

Due to the nature of our product, we do not accept returns. However, if you have an issue with your order, please reach out to us at hello@explorercoldbrew.com and we will do our best to make it right!
Ethically Sourced. Sustainability Minded.
Founded with the belief that exceptional coffee and chai is the most reliable way to elevate your day.

Discover our curated collection of coffee bases and enhancements.
Shop All
Thank Goodness and Goodness It Is!
My tolerance for caffeine has really diminished as I am aging. Thank goodness Explorer make EXCELLENT reduced caffeine Cold Brew. I love cold brew but can't tolerate the high octane stuff. No other Cold Brew tastes as good or accommodates my caffeine levels like Explorer.
best decaf cold brew in town! Maybe the only?
I drink this almost daily with unsweetened Silk soymilk
Great coffee, not great shipping/warehouse, exceptional customer service
Coffee is delicious. I love it. Messed up my order a couple of times (didn't send what I ordered, but were quick to rectify and compensate for the trouble), but went above my expectations to make the experience positive. I'm hooked
Go-To Gift for My Son
My son loves this cold brew coffee, so it is a go to gift for my son. I also love Explorer Cold Brew's exceptional customer service. They go above and beyond to be sure that customers are completely satisfied with their products and services.
The best for pregnant and new moms!
As a breastfeeding mom trying to limit caffeine consumption the No Caf is perfect for me! My husband gets the Reg Caf and sometimes I'll put a splash in that if I need a little something to jumpstart my day. Saving money with a child is also clutch. We used to spend so much on Starbucks cold brew that would only last 3-4 days. We love Explorer!